A 24/7 Roadside Oasis for Travelers, Families, & Truck Drivers
Fulfill All of Your Road Trip Needs With Our On-Site Amenities
There's nothing worse than dirty gas station restrooms, especially if you're traveling with small kids. We keep our bathrooms neat and tidy, so you don't have to keep driving to find somewhere cleaner along your route.
Keeping your dog cooped up on a long car ride can be 'ruff'! Our fully fenced-in dog run is the perfect opportunity for your four-legged family members to stretch, burn some energy, and use the bathroom. We just ask that you clean up after your pet!
We have multiple washer and dryer units available for use. Whether you're a long-haul trucker or a parent who needs to run a quick load of laundry, we welcome everyone! There's plenty of room to relax nearby while you wait.
Satisfy your cravings before you get back on the road! Choose a quick meal from Krispy Krunchy Chicken or TacoTime before you get back on the road. Or, enjoy a dine-in experience at our on-site restaurant, The Garden of Eden!
Additional On-Site Amenities Include:
Clean and spacious showers

Well-stocked convenience store

24-hour motel right next door

Freshly prepared deli options

Large paved lot with plenty of overnight parking

Garden of Grapes Wine Shop
Serving Travelers for More Than 40 Years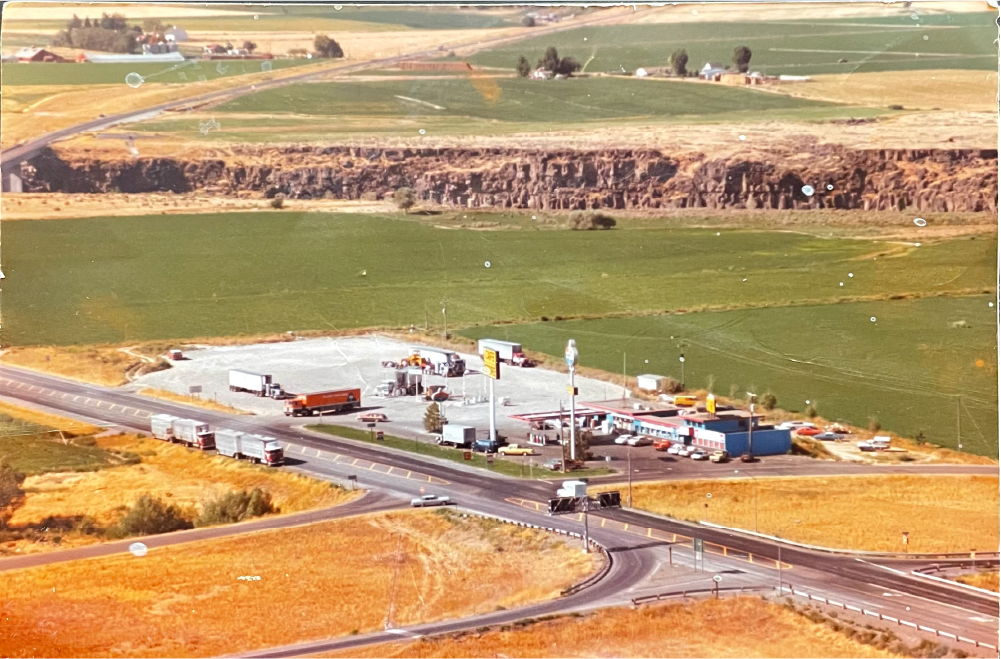 Founder Dan Willie and a partner started the Travelers' Oasis in 1979. The truck plaza initially started as a two-bay service station. Since then, The T.O. (as it's affectionately called) has grown into a 22,000 sq. foot truck stop on sixteen acres of land. We've been serving truck drivers, travelers, and families from our convenient, clean, and safe location for over 40 years. That's a record you can trust!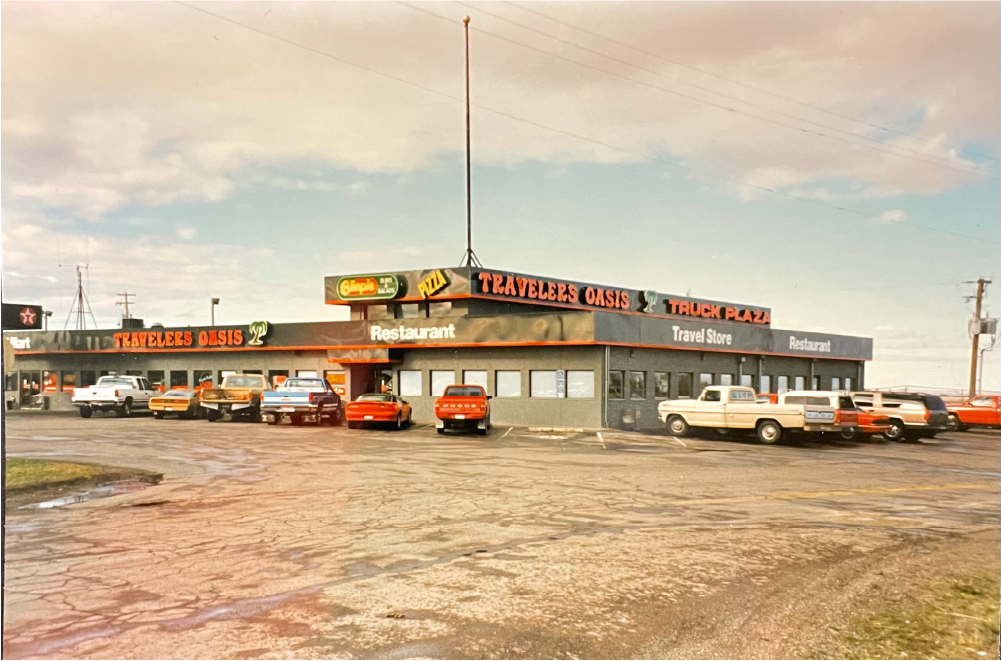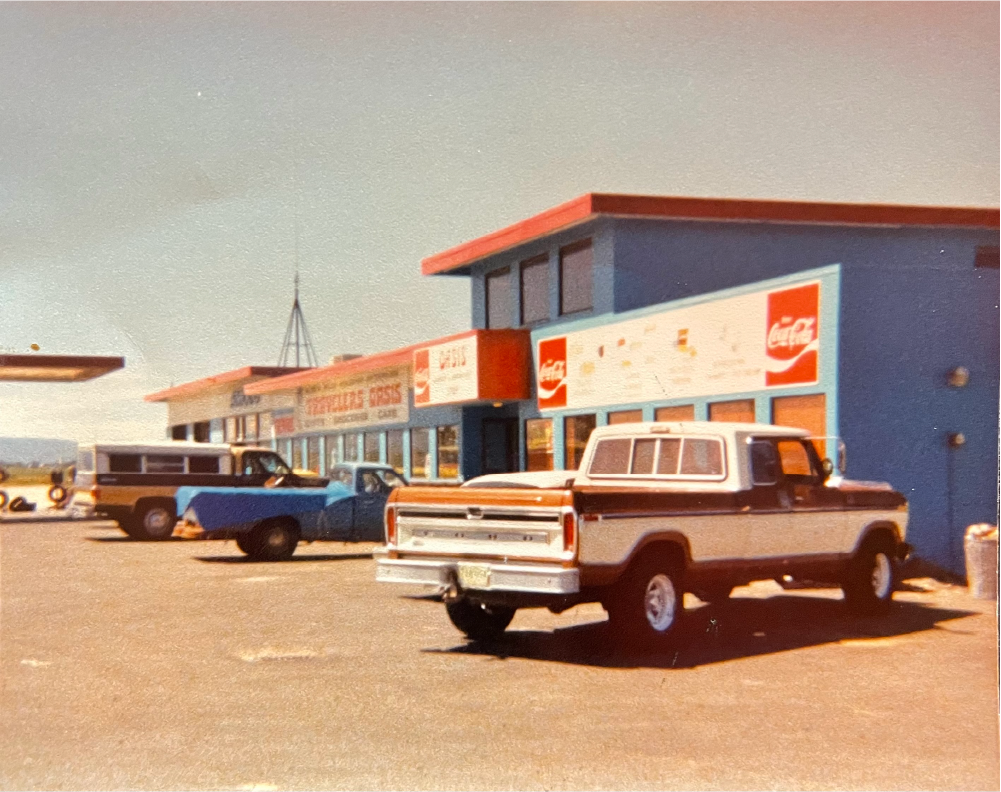 Visit the Traveler's Oasis
Just use the button below to get directions to the Travelers' Oasis. We can't wait to see you!
Fuel your vehicle at our gas station, stretch your legs, and grab a bite to eat before you continue on your trip.
Once you're finished recharging and refueling, you're ready to head out. We'll see you next time!
See What Our Customers Are Saying
This was a gem of a stop. Clean showers ($7), multiple TV rooms, laundry 3/3 w/ Great, friendly & genuine staff. The restaurant has great food (especially the chicken fried steak & coffee) and Plenty of parking with pull-through spots (pulling doubles) Will definitely come back when passing through.

- Sierra M.

This a great place for a stop from Idaho Falls to Boise. The restrooms are clean. There's a full size restaurant, Taco Time, Krispy Krunchy Chicken, and other food options. The chicken was great. There's also different drink options, souvenirs, and some automobile tools. There's also places in where you can sit and eat. The best stop experience so far!

- Eugene E.

Very friendly people and they have clean showers. I didn't even have to wait for one. Lots of parking too. I'll definitely be back.

- Candace R.

Has clean large showers for $7. Laundry room with multiple washers/dryers. Lots of fuel pumps, space to turn around, scales, truckers lounge in the basement with TV and stuff. They have a good deal of truck lubes & fluids. Taco Time, Blimpie subs and chicken is here on-site with a food court that has a waterfall, if you can believe that. Lots of fountain drinks, snacks etc.

- Dev S.

A great one stop shop. The bathrooms were clean, the oasis inside is really cool plus the restaurant inside is delicious. Decent price for large portions and great presentation. Our waitress was warm and welcoming. It's a great place to stop while on the road.

- Amber Bailey

Love the staff - Love the food! My husband and I are truck drivers and special request to haul loads so we can be sent by this truck stop for the food!

- Beth W.
We offer the following food venues: